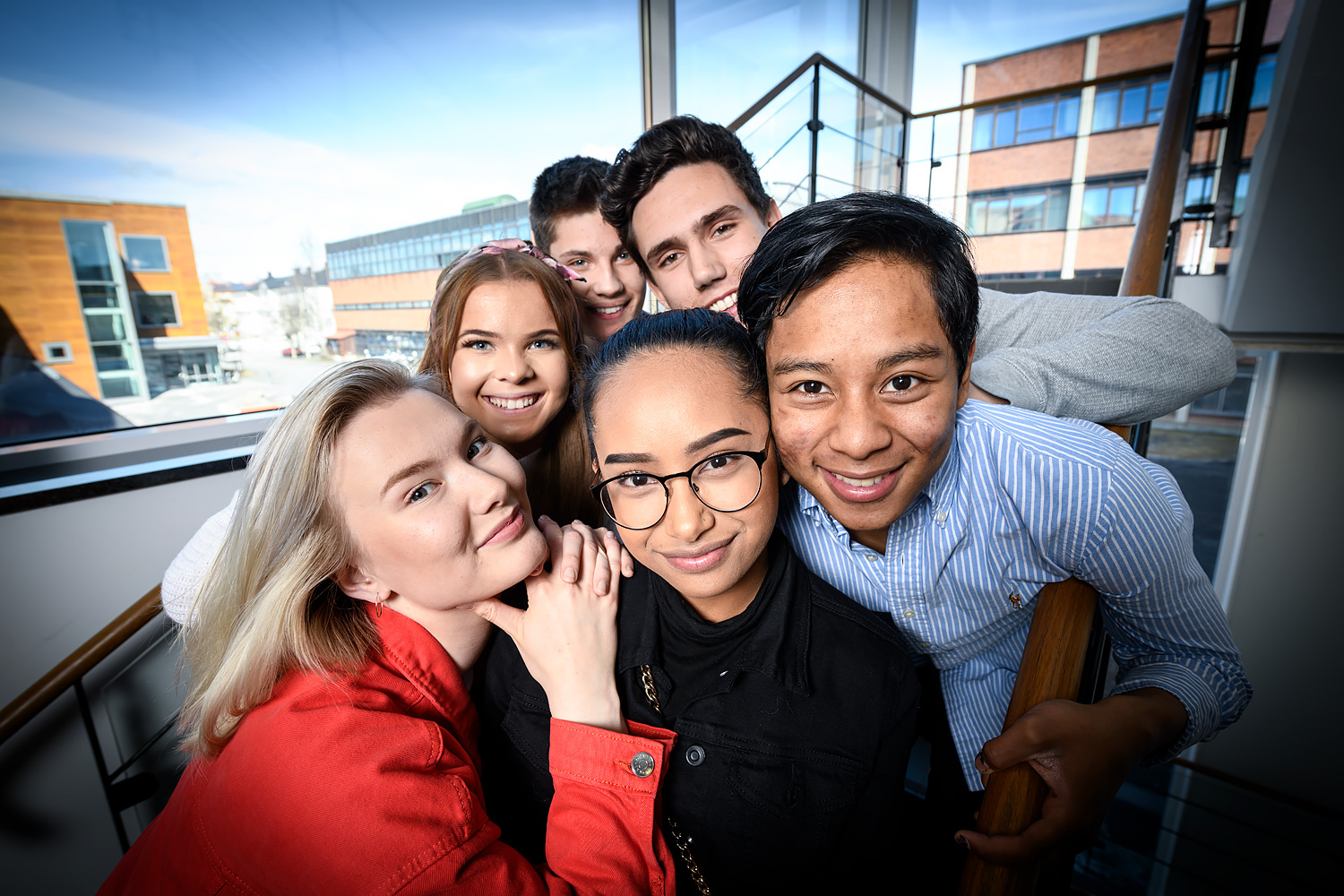 Excellence in 3 countries
Thora Storm Upper Secondary School is a school located in the city centre of Trondheim, Norway's third largest city with 190 000 inhabitants. Presently, the school has 775 students, but it is built for up to 850. There are 156 employees, of which 108 are teachers. We offer nine different study programs both vocational and general studies. We offer five different general studies programmes; General Studies, General Studies with Entrepreneurship, General Studies with Arts, Design, and Architecture, General Studies with Science and Entrepreneurship, and General Studies for Minority Students. In the field of vocational education and training, we offer the following programs, Design and Crafts, Health and Social Studies, and Service and Transport. In addition, we have programmes for newly arrived immigrants. Due to our long-standing cooperation with our neighbouring school, Trondheim Cathedral School, we can offer a range of different subject to our students. Furthermore, being located in the middle of the city centre gives us the advantage of being close to numerous cultural institutions, such as museums, theatres and cinemas, which is something we take advantage of in our lessons. Storm has since 2008 had a special focus on entrepreneurship and young enterprise. We have developed a programme especially designated for a class of entrepreneurship students in the general studies programme. In addition to the entrepreneurship class, we have focused on using entrepreneurial and innovative methods in all our programmes and teaching at the school. Due to our attention and focus on entrepreneurship, several of our teachers have studied entrepreneurship at university. These teachers have key competences within entrepreneurial teaching and entrepreneurship methodology; it is therefore natural to involve them in the project.
Through the last 8-9 years, we have carried out several competitions and workshops where the students have been given real life problems from local businesses. We have placed students in mentor businesses, to give them a feel for what working life is like. Students at the general studies program have a very academic curriculum, they are preparing for further education, and for many of them school and school subjects seem irrelevant to their day to day life, and many question why they learn what they learn. By involving local businesses and giving them mentors in the business community, they get a feel for what working life is like, and are able to see that school is more relevant than they have previously thought. It has been important for us to cooperate with businesses to give the students a link to what their future might look like, and what will be expected of them. This gives them motivation to work with their school subjects, while being able to link what they do in school with working life. It also inspires them to start planning for a future career and further education.
JGY is a federation of Upper Secondary Schools in the County of Jämtland.
The Federation was formed in 2005, and consists of the upper secondary schools owned by the municipalities of Bräcke, Krokom, Ragunda and Östersund. The Federation's assignment is to be responsible for the upper secondary education as well as the upper secondary education for pupils with learning disabilities and for some of the municipal adult education (Komvux) in the municipalities. The upper secondary school consists of different types of programmes: 18 national programmes each lasting three years. They are divided into upper secondary foundation subjects, subjects common to a programme, orientations, programme specialisations and a diploma project.
Five introductory programmes for pupils who are not eligible for a national programme.
Education that deviates from the national programme structures; special variants, programmes based on national recruitment and nationally approved sports programmes (NIU). All together we are 3000 students and 400 staff. Jämtlands Gymnasium is a regional and national leader in the field of entrepreneurship in education. The school has developed several activities focusing on the development of entrepreneurial and intrapreneurial skills among the school's students. JGY develops youth companies that are by far the strongest in the region. In combination with entrepreneurial teaching skills and a school organisation focused on the development of entrepreneurial work, JGY is important for the development of entrepreneurship in education in Mid Sweden.
Sir M.A Refalo Sixth Form is an Institute for Further Education situated in Victoria, Gozo. Our Students are aged 16 and over with the majority having just finished Secondary School. One of the many courses followed here is called the Matsec Course which leads the students to the qualifications necessary in order to attend a course at University. Students spend approximately two years at our Institute. All together we have 500 students and 100 members of staff. believe that entrepreneurship is very important especially in our small country so we promote this amongst our students. Our students participate in Junior Achievement Young Enterprise and we do our utmost to help and support our students in anyway we can. We give our students the opportunity to take part in various activities that enrich their lives and broaden their horizons as we believe in the holistic development of the students and in this way we encourage our students to try new things and visit workplaces around Gozo.